These pages are for new collectors or for those persons who are not aware of the wealth of original old maps that there is to collect. It is not intended to be a reference work but more of a simple place to get to know about the enjoyment of collecting maps of the the British Isles counties. I shall list roughly in date order some of the cartographers to keep a look out for when building your collection of British County Maps. I will keep returning to this guide to add more information so please check occasionally. One advantage I have with the internet site opposed to a printed book is the number of images I will be able to provide.

There are some amazing reference books on antique maps which I have used to assist me which include the following
Antique Maps of Cornwall and the Scilly Isles. R. C. E. Quixley and J. M. E. Quixley. Published in 2018. The amazing information on mapmakers can be used to related any county.

Tooley's Dictionary of Mapmakers. A set of four volumes published by Map Collector Publications and later by Early World Press. Any name in early cartography you will find here with information.



You will find links to currently available books on maps in my bookshop on another page of my website.
Many cartographers did not include individual Welsh county maps in their atlases. Wales was usually covered by a map of the whole country or a map of North Wales and another of South Wales. Monmouthshire is not always classed as being in Wales so very often an atlas includes a map of Monmouthshire but no other Welsh county.


The range of county maps to collect is much smaller than England as many cartographers only covered Scotland by a map of the country or a map of the North and another of the South. The same goes for Ireland although there are sometimes individual maps of the Provinces.
Most county atlases include a map of the British Isles. In some cases this can be supplemented by maps of England and Wales, Saxon England and Roman Britain. And then there are the wonderful selection of maps of each county.

I have divided this guide into four sections to cover the following periods

When I started collecting and selling maps back in the 1960's there were very few reference books on antique maps. The first book I remember buying was Maps and Mapmakers by R. V. Tooley. Full of wonderful information but over the years there were periods when it was out of print. The Antique Collectors Club used to produce a large range of books on all kinds of antiques and in 1983 - BRITISH COUNTY MAPS by YASHA BERISINER was published. To the best of my knowledge there has not been another book like it published. A most useful and informative work and essential for the avid county map collector. I think there was just the one edition. If you can get hold of a copy at a reasonable price my advice would be - Buy it. There is a link below that will search Amazon for copies on sale.

My well used copy pictured on the right still has its distinctive red cover illustrating Cambridgeshire by John Speed.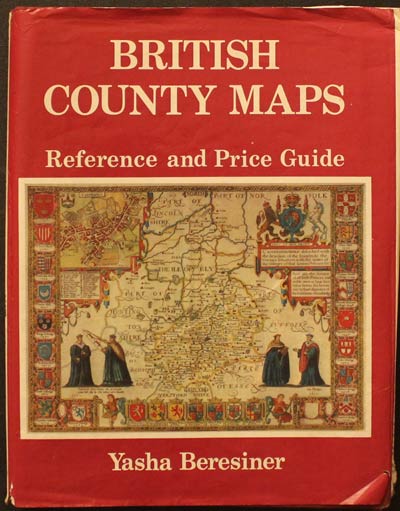 Stoneydale
Pepper Street
Christleton
Chester
CH3 7AG

Telephone
01244 336004

International
44 1244 336004

email: richard@antiquemps.com
I have been buying and selling antique maps since the early 1960's during which time I had a gallery in Watergate Street, Chester for 30 years. I am now able to offer through my websites a personal service to map and print collectors.
Guide to Collecting British Isles County Maps
We use cookies and other tracking technologies to improve your browsing experience on our site, analyse site traffic and understand where our audience is coming from.