My interest in antiques was sparked by working in Browns of Chester auction rooms in the 1960's. I served my articles there working for three years for no pay. In fact my father had to pay Browns five hundred pounds for the privilege. Although he did recoup the money as I lasted the three years before joining the staff. My first interest was in antique silver probably because I was fascinated in the way that it was possible to date it accurately by the hallmarks. At that time there were few dealers in antique maps. It was a map dealer named P. J. Radford who lived in Denmead near Portsmouth that got me started and by 1961 I was starting to buy and sell maps.
When I started collecting and selling maps back in the 1960's there were very few reference books on antique maps. The first book I remember buying was Maps and Mapmakers by R. V. Tooley. Full of wonderful information but over the years there were periods when it was out of print. The Antique Collectors Club used to produce a large range of books on all kinds of antiques and in 1983 - BRITISH COUNTY MAPS by YASHA BERISINER was published. To the best of my knowledge there has not been another book like it published. A most useful and informative work and essential for the avid county map collector. I think there was just the one edition. If you can get hold of a copy at a reasonable price my advice would be - Buy it. There is a link below that will search Amazon for copies on sale.
My well used copy pictured on the right still has its distinctive red cover illustrating Cambridgeshire by John Speed. The county I was born in.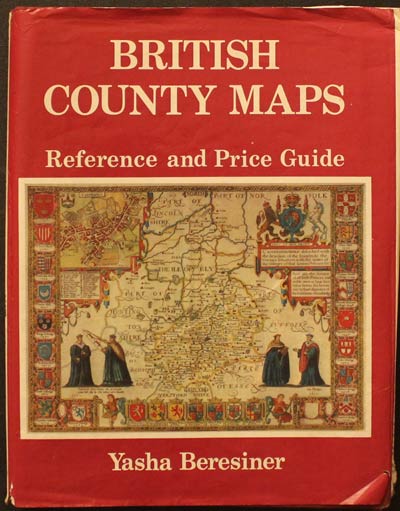 Stoneydale
Pepper Street
Christleton
Chester
CH3 7AG

Telephone
01244 336004

International
44 1244 336004

email: richard@antiquemapscom
I have been buying and selling antique maps since the early 1960's during which time I had a gallery in Watergate Street, Chester for 30 years. I am now able to offer through my websites a personal service to map and print collectors.
Antique Maps of Derbyshire and other Counties - Richard Nicholson
We use cookies to improve your browsing experience on our site, analyse site traffic and understand where our audience is coming from